A Seamless Integration
Our OneConnectPoint®medication app – designed exclusively for hospices – integrates seamlessly with every major Electronic Medical Records system.  So whichever EMR your hospice uses, we empower you to boost clinician productivity, flexibility and satisfaction.
With the ability to quickly and easily e-prescribe, admit patients, update profiles and much more right at your fingertips. Your busy clinicians can spend less time dealing with pharmacy and more time focusing on all-important patient care.
EMRs We Currently Support Include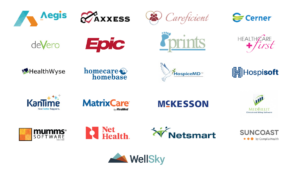 If you are using an EMR not listed above, please contact us.  This is not an exhaustive list and we may be able to integrate with your system.