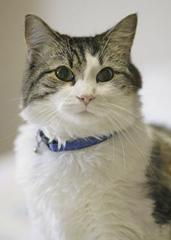 Being a prognosticator, or a predictor, is one of many hats that hospice clinicians wear. The ability to provide an accurate prognosis plays a crucial role in many clinical decisions. In addition to clinical experience, hospice clinicians use tools like the Palliative Performance Scale (PPS) to help predict survival. Believe it or not, there's one very unconventional prognosticator that's seemingly able to predict a patient's imminent death with amazing accuracy – a cat named Oscar.
Oscar spends his days roaming the halls of the Steere House Nursing and Rehabilitation Center Safe Haven Advanced Care Unit, which primarily serves patients dealing with the later stages of Alzheimer's Disease and other forms of dementia.
In 2007, the story of Oscar's incredible gift of prognostication was highlighted when Dr. David Dosa, a Rhode Island geriatrician, published a description of A Day in the Life of Oscar the Cat in The New England Journal of Medicine. Oscar was also featured in Dosa's 2010 book Making the Rounds with Oscar: The Extraordinary Gift of an Ordinary Cat.
Oscar's routine is a mixture of napping in the doctor's charting area, a few good stretches, and making the rounds throughout the nursing unit sniffing the air in search of any patients where death is imminent and might otherwise go unnoticed by his human colleagues. In fact, Oscar is generally uninterested in those who are not near death. He has even been described as hissing at people when he wants to be left alone. However, if Oscar curls up and lays next to a patient, that usually means that the individual has hours left to live. Oscar will remain with the patient and comfort them until they take their final breath and then inconspicuously return to roaming the Steere House halls.
Once Oscar identifies a patient to lay next to, nurses know to begin making phone calls and inform loved ones, so that they can come and say their goodbyes. Oscar is incredibly accurate in his predictions; it's estimated that he's repeated this routine for over 100 deaths. It's unknown how Oscar is able to predict imminent death with such accuracy, a talent that eludes even the most skilled clinicians. It's been hypothesized that Oscar is picking up on the scent of pheromones or odors released during the dying process, but no one knows for sure.
Regardless of how Oscar is able to know when someone will die, it seems that he takes his gift and uses it positively. Oscar not only provides comfort at a difficult time, but he's also able to give dying patients and their loved ones precious time together, time that they otherwise might not have had, by alerting staff members to a patient's imminent death. At the time of this writing, it's unknown if Oscar still patrols the halls of Steere House but the tale of an ordinary cat with an extraordinary gift is still compelling, nonetheless.
For additional information about Oscar the Cat, visit: https://steerehouse.org/shoscar_landing
Written by:
Alexandra Rios, PharmD Candidate 2021
Roosevelt University College of Pharmacy
Reviewed by:
John Corrigan, PharmD
Clinical Pharmacist, OnePoint Patient Care
References
Dosa, D. A Day in the Life of Oscar the Cat. New England Journal of Medicine. 2007. 357(4):328-329. https://doi.org/10.1056%2FNEJMp078108
Raven, D. Can Oscar the Cat Predict People's Deaths? Mirror. 30 March 2015. https://www.mirror.co.uk/news/world-news/miracle-cat-predicts-deaths-100-5365056 Retrieved February 10,2021.
Steere House Nursing and Rehabilitation Center. Oscar the Cat. https://www.steerehouse.org/oscar/o_rounds. Retrieved February 10, 2021.