Just like Oscar the cat can identify and comfort patients who are near death, it seems that another unusual suspect has a keen sense for helping humans who are approaching the end of life. Peyo (affectionately nicknamed "Dr. Peyo") is a 15-year-old former show stallion that literally roams the halls of the palliative care center of Calais Hospital in northern France. His trainer, Hassen Bouchakour, could tell early on that he was special. According to Bouchakour, Peyo is not usually an attention seeker, but always seemed to approach those who were likely emotionally, physically, or psychologically vulnerable and would act in an especially gentle and protective manner.
Dr. Peyo has already "seen" over a thousand patients and appears to be more than just your average friendly horse. He seems to have an uncanny ability to reduce anxiety and pain and perhaps even to detect cancers and reduce medication needs. So far, those studying Peyo's brain have suggested some aspects of his neurological activity are unique and not experienced by other horses.
You might be thinking, is it sanitary for a farm animal to wander the halls of a hospital inpatient palliative care unit? His trainer spends an average of 2 hours each day preparing him; bathing, brushing, and wiping Peyo down with disinfectant wipes before and after visiting the hospital. Peyo even lets his trainer know when he needs to go outside by moving his body from right to left.
Peyo also alerts Bouchakour about which patients he wants to see by stopping at their door and raising his front leg and has been known to spend hours at a time comforting, watching over, and protecting those he visits. It's unknown how Dr. Peyo picks his patients or helps them feel better. Regardless, he's a remarkable creature that brings joy and comfort to patients, family members, and staff.
Learn more about Dr. Peyo here.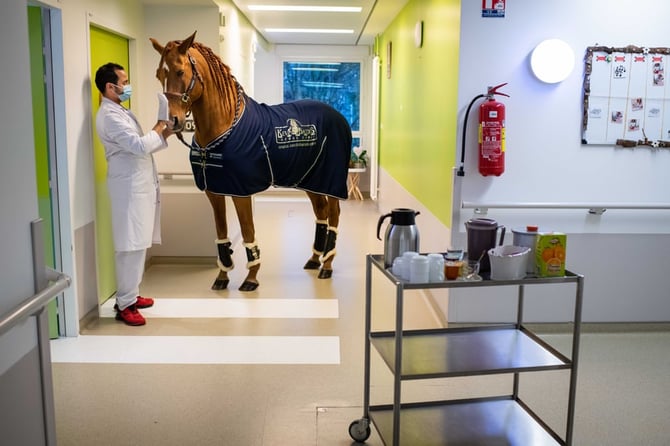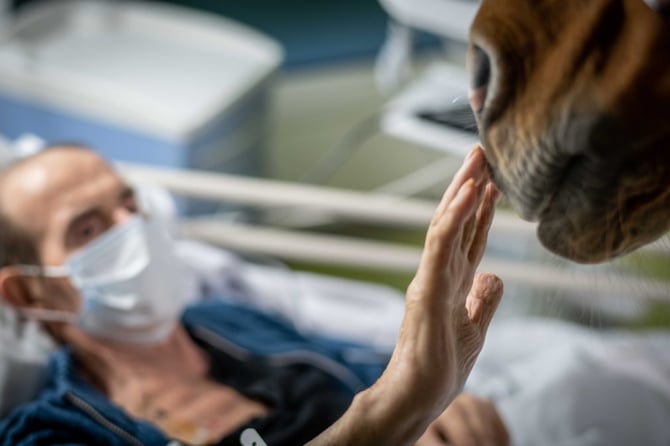 References
Lempin J. A Horse in the Hospital? Meet 'Doctor Peyo'. Medscape. September 1, 2021. Accessed September 23, 2021. https://www.medscape.com/slideshow/horse-hospital-6014296#1 phy
Lempin J. 'Doctor Peyo': the Horse comforting cancer patients in Calais – in pictures. The Guardian. March 12, 2021. Accessed September 23, 2021. https://www.theguardian.com/society/gallery/2021/mar/12/doctor-peyo-the-horse-comforting-cancer-patients-in-calais-in-pictures