Our "Together as One" series spotlights nurses, physicians, pharmacists and others who positively impact the lives of hospice patients and their families every day. Through the dedicated and compassionate work of these inspiring professionals, patients receive the high-quality care and attentive consideration they deserve. Together with innovative and responsive hospice partners, they create the network of support so essential to hospice care. We invite you to meet the people behind the mission—and see what one can do.
Brandi Wethington, BSN, RN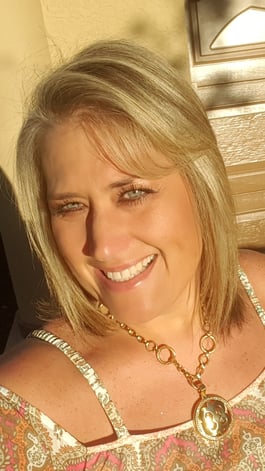 Treasure Health
Fort Pierce, FL
What inspired you to become a nurse?
From the time I was a little girl, I always wanted to be a nurse. I aspired to advocate for patients, to empower people to make informed decisions, to be a comfort to people during a difficult time and to be someone who was trusted to always do the right thing.
How did you come to work in hospice specifically?
My grandmother was in hospice care for the last couple months of her life. They provided her with comfort and dignity during her last days. I always wanted to be a part of that peace, comfort and dignity. I started providing comfort at end of life while working in labor and delivery. Labor and delivery is always thought to be a time of joy but it is not always joyful. I took care of the mothers who miscarried or had stillborn infants. I gave them respect, love, comfort and dignity during the most difficult time in their lives. The opportunity arose for me to join the hospice family after 13 years of labor and delivery. It was a seamless transition and has been the most rewarding part of my career thus far.
What has been your favorite or proudest moment as a nurse?
Four weeks into the nursing program, my husband told me he wanted a divorce. I was obviously distraught and was told by the Dean of Nursing that I needed to drop out of the nursing program until things settled down. I refused. Then, over the next two semesters I was in a massive car accident and had to move out of my in-law's home. During the last six months of nursing school I lived in a homeless shelter with my 3-year-old son. Nevertheless, I graduated with a 3.74 GPA and Magna Cum Laude. I received a standing ovation from all the instructors, including the Dean. That was the proudest moment of my career—becoming a nurse. That experience is what inspired me to obtain my BSN, and I am six months into the nurse practitioner program. Truly blessed!
In what ways (if any) is nursing different from what you expected when you first started?
When I first started on my nursing journey, I was 18 years old. I started as a Certified Nursing Assistant and was trained by the best Licensed Practical Nurses around. They taught me that nurses tend to "eat their young," so be strong and always take others under your wing. Show them the way and always do the right thing. I would have never thought that nurses would treat other nurses like that but they do sometimes.
Do you have any advice for someone considering a career in hospice?
It is truly a position of honor. It is not a position of leisure or a retirement position. Hospice work is very challenging, fast-paced and the most rewarding position in nursing. We get to help people when they are most vulnerable.
How do you keep from getting overwhelmed in your busy day-to-day?
I prioritize, meditate, pray and I laugh . . . OFTEN.
Have there been any patients or families that have been particularly memorable? How so?
Every day a family touches me in a unique way. Just today, with the help of several others, I was able to get a patient home to die who otherwise would not have been able to. She was surrounded by her family, music and lots of love. It truly was beautiful and an honor to be a part of.
Has your work influenced how you think about death? In what ways?
Working in hospice has definitely influenced how I think about death. We spend our lives planning for weddings, births, graduations and other events. People often do not plan for death. I have worked with so many families that did not plan and they struggled with how to make decisions for their loved ones. I took it upon myself to have the conversation with my family. I wanted to make sure I knew what their wishes were and wanted them to know mine. Now there will be no doubt for anyone when it is our time. We all will die but we have a choice in how we write the ending to our story. Have the conversations with your family, friends, doctors, churches and anyone else that you wish to. Do not wait, tomorrow is not guaranteed to anyone.