Our "Together as One" series spotlights nurses, physicians, pharmacists and others who positively impact the lives of hospice patients and their families every day. Through the dedicated and compassionate work of these inspiring professionals, patients receive the high-quality care and attentive consideration they deserve. Together with innovative and responsive hospice partners, they create the network of support so essential to hospice care. We invite you to meet the people behind the mission—and see what one can do.
Achille Tiam, PharmD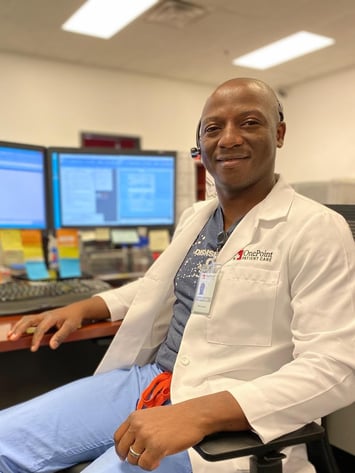 Pharmacist
Las Vegas, NV
How did you become interested in pharmacy?
My interest in pharmacy came from several conversations with my brother, who is also my mentor and a pharmacist. Before going into pharmacy, I was a teacher and kept bragging to my brother that I am a key element in society because I have an impact in each of my student's lives. In response to my self-important speech, my brother stated that he has the opportunity to not only help students, but also their friends and family. This is just one of multiple statements he made that highlighted the beauty of being a pharmacist and generated my interest in the profession.
What are your favorite aspects of your job?
My favorite aspect of working as a hospice pharmacist is being able to utilize my knowledge and resources to provide clinical recommendation to nurses and prescribers based on patient specific presentations and hospice formulary.
What drew you to a career with OnePoint?
In addition to the great work atmosphere and the opportunity for professional growth in the company, my decision to seek a career with OnePoint was also influenced by the experience of other pharmacists currently at OnePoint.
Have you had any particularly challenging patient cases?
Yes. My most recent challenging patient case was a pediatric patient with a diagnosis of aplasia Curtis congenital. Since this condition is so rare, it's not given any focus in pharmacy school. In order to ensure the safety and efficacy of medication dosages for this patient, I constantly had to perform extensive research and even consult with colleagues currently working as pediatric pharmacists in children hospitals.
Do you have any proudest professional moments?
My proudest professional moment is getting great feedback from hospice nurses and management about my job as a pharmacist. We are constantly on the phone with hospice nurses who ask for clinical recommendations, and I still feel proud of myself when my recommendations are accepted by prescribers and adopted immediately.
What advice would you give pharmacy students?
Being a pharmacist a noble and great profession, but lately there have been more students graduating than there are job opportunities. In fact, the U.S. Bureau of Labor Statistics reports that there will not be an increase in job opportunities in this field for the upcoming years. Pharmacy students should definitely evaluate the possibility of not finding a job after graduation.
Has working in the hospice industry influenced how you think about death?
Yes. Although death is an inevitable path for everyone, it remains a tough thing for loved ones, and frightening for the patient. I believe that my job allows me to indirectly alleviate the pain and anxiety from the patient and hopefully allows their family to see their loved one transition peacefully.
How has the COVID-19 pandemic impacted your experiences or responsibilities as a health-care provider? What are some of the challenges, and how have you overcome them?
With the surge of COVID-19, many healthcare providers turned to us for information regarding COVID-19 treatment. My fellow pharmacists and I have been keeping up with CDC guidelines and various researches to continuously provide the most up-to-date medication therapy approach. There is nothing more rewarding than serving as a trustworthy source for clinical management of patients with a diagnosis of COVID-19.