Our "Together as One" series spotlights nurses, physicians, pharmacists and others who positively impact the lives of hospice patients and their families every day. Through the dedicated and compassionate work of these inspiring professionals, patients receive the high-quality care and attentive consideration they deserve. Together with innovative and responsive hospice partners, they create the network of support so essential to hospice care. We invite you to meet the people behind the mission—and see what one can do.
Kim Johnson, RPh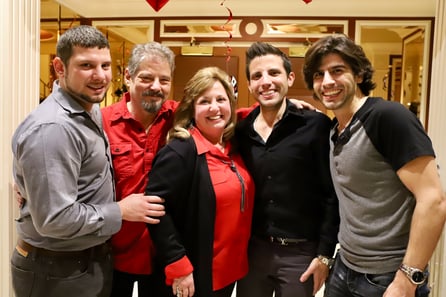 Pharmacist-in-Charge
Las Vegas, NV
How did you become interested in pharmacy?
I became interested in pharmacy when back in the early 90's I lost two jobs due to business closures and had the opportunity to go back to school. My counselor suggested I go into the health field. I had 3 small children and I knew our local pharmacist pretty well.  She told me she loved her job and convinced me that it was a great field for a woman to get into because of the many options that were out there and the flexibility in scheduling.
What are your favorite aspects of your job?
My favorite aspect of my job at OnePoint is that it feels like a family. I can have one on one conversations with upper management and feel like my opinion matters (unlike big box retail stores). I feel appreciated not only from the company but also the nurses I've been working with for 8+ years.
Have you had any particularly challenging patient cases?
There have been many…my most challenging case was while working in a big box retail store, I was not "user friendly".  I had denied an early fill on a controlled medication and the person actually threatened to take a bat to my knees when I got out of work to "show me how it felt". Luckily, she didn't follow through.
Is being a pharmacist different from your expectations? If so, in what ways?
My pharmacy expectations were based on our small hometown pharmacies, where the pharmacist was not very busy. We moved away from our hometown and I realized very quickly just how fast paced pharmacy can be. I much more prefer the faster pace than the slow.
What drew you to a career with OnePoint Patient Care?
I was drawn to OnePoint after I had spent 12 years in retail pharmacy and was not very happy. I heard about the opening, interviewed and prayed I would get the job. I started as a part time pharmacist and within 7 months I became the Pharmacist-in-Charge. I have been loving my job ever since!
Do you have any proudest professional moments?
My proudest moments are when I am sitting in a meeting with one of our hospice partners and realize all the tools we have to help them manage their business. I have also gone to meetings where I am treated like a celebrity. It is so fun to finally meet the nurses face to face who you have been talking to for years on the phone.
What advice would you give to pharmacy students?
The advice I give my pharmacy students is to stay on top of your workload. Show appreciation to your support staff and you will create a better environment for yourself and for all who work with you.
Has working in the hospice industry influenced how you think about death?
Working in the hospice field has made me realize life is short. We need to live life to its fullest at every opportunity.