Our "Together as One" series spotlights nurses, physicians, pharmacists and others who positively impact the lives of hospice patients and their families every day. Through the dedicated and compassionate work of these inspiring professionals, patients receive the high-quality care and attentive consideration they deserve. Together with innovative and responsive hospice partners, they create the network of support so essential to hospice care. We invite you to meet the people behind the mission—and see what one can do.
Shekar Ganesh, PharmD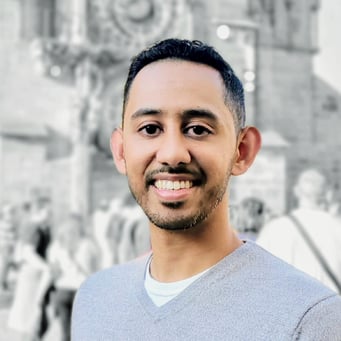 Pharmacist and Assistant Manager
Morton Grove, IL
How did you become interested in pharmacy?
I enjoyed working as an inpatient hospital pharmacy technician prior to pharmacy school, which further sparked my curiosity in a career in pharmacy. Additionally, I enjoyed learning general chemistry and organic chemistry, both of which are important to understanding pharmacology.
What are your favorite aspects of your  job?
I feel great that I can assist nurses and physicians with their questions, which will hopefully make their patients remaining time  more comfortable. Another favorite part of my job is being able to work with a great group of coworkers. We all get along and help each  other out whenever we can.
Have you had any particularly challenging patient cases?
A challenging part of our job is when we don't have a full patient history to provide a thorough recommendation. For example, nurses may call and ask for a consult but they can't provide pertinent medical history. Consequently, it gets difficult to provide a proper treatment plan. But ultimately, we as pharmacists take a stepwise approach to determine the best possible resolution.
Is being a pharmacist different from your expectations? If so, in what ways?
Yes. Pharmacy schools teach us a standard curriculum and provide us the basic foundation of what a pharmacist should be capable of. When I started working as a pharmacist it was a different story. Our profession is unique because we are exposed to different scenarios and work environments, in contrast  to the concrete methods and protocols taught in school. But ultimately, the basic principles is what a pharmacist should grasp in order to become a successful pharmacist.
What drew you to a career with OnePoint Patient Care?
I never enjoyed my previous job working as an overnight pharmacist. I saw a job opening at OnePoint, about hospice pharmacy, which intrigued me. I didn't know what hospice pharmacy entailed or even what hospice meant. Long story short, I applied for the position and the rest is history.
Do you have any proudest professional moments?
Being promoted to Assistant Manger would be one of my proudest professional moments. It feels great that the hard work and effort I put in each day doesn't go unrecognized.
What advice would you give to pharmacy students?
A piece of advice I give to all pharmacy students is to learn as much as they can during their 4th year and to take the most difficult of rotations. It is the only time where they can really learn from their mistakes and ask questions in order to become better pharmacists when they are on their own.
Has working in the hospice industry influenced how you think about death?
Death is an unfortunate part of life. For some, the process may come easily and pain free but for many others it may not be the case. Thankfully, the hospice industry is there to provide assistance for patients in their time of need to have a painless and comfortable passing.