With seemingly innumerable generic variants among dosage forms, diltiazem undoubtedly causes more confusion than any other drug when it comes to generic substitutions. As of August 2022, the FDA Orange Book lists a whopping 117 active diltiazem formulation/strength/manufacturer combinations. So, how do prescribers and pharmacists sort this mess out?
Among those 117 products are "injectable", "tablet", "tablet, extended release", and "capsule, extended release" with by far the most variability among the extended release capsules. There are four different Orange Book therapeutic equivalence codes / designations for ER capsules: AB1, AB2, AB3, and AB4. AB1 products can be substituted for other AB1 products, but not an AB2, AB3, or AB4 product, etc. Table 1 details differences among the ER capsule forms.
Table 1:
Orange Book code
AB1
AB2
AB3
AB4
Generic Product Indicator (GPI) drug name
Diltiazem HCl
Diltiazem HCl
Diltiazem HCl Coated Beads
Diltiazem HCl Extended Release Beads
Reference brand drug(s)
Cardizem SR
Dilacor XR
Diltia XT
Dilt-XR
Cardizem CD
Cartia XT
Taztia-XT
Tiazac
Tiadylt
Generic manufacturer(s) / strengths
Glenmark: 60, 90, 120mg
Mayne: 60, 90, 120mg
Mylan: 60, 90, 120mg
Accord: 120, 180, 240mg
Apotex: 120, 180, 240mg
Actavis: 120, 180, 240, 300, 360mg
Novast: 120, 180, 240, 300, 360mg
PAR: 120, 180, 240, 300mg
Sun: 120, 180, 240, 300, 360mg
TWI: 120, 180, 240, 300, 360mg
Valeant: 120, 180, 240, 300mg
Zydus: 120, 180, 240, 300, 360mg
Actavis: 120, 180, 240, 300, 360mg
Sandoz: 120, 180, 240, 300, 360, 420mg
Sun: 120, 180, 240, 300, 360mg
Zydus: 120, 180, 240, 300, 360, 420mg
Dosing frequency
Twice daily
Daily
Daily
Daily
What's inside the capsule
tiny beads
a few tablets
tiny beads
tiny beads
May open & sprinkle contents onto applesauce per product labeling
No
No
No
Yes
Two key differences among the capsules are once vs. twice daily dosing and whether they can be opened to facilitate administration in patients with dysphagia or not. Nearly all bottles of diltiazem capsules will say on the label whether a product is intended for once or twice daily dosing (image 1). Only Tiazac, Taztia, and Tiadylt and their AB4 rated generics can be opened and sprinkled onto soft food per their product labeling. AB1 and AB3 rated products also have tiny beads inside (similar to the AB4 rated products), but the product labeling and manufacturer representatives don't endorse the practice of opening these capsules (image 2).
Image 1: Examples of once vs. twice daily diltiazem ER capsule product labels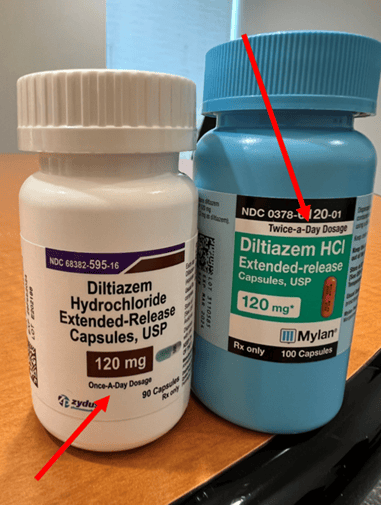 Image 2: Inside diltiazem ER capsules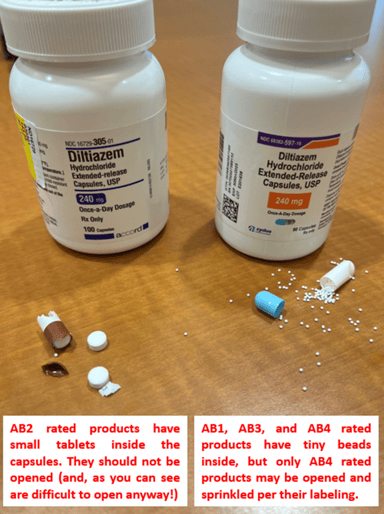 Drug costs are very similar among the capsules and there really aren't material differences among indications, except that only once daily formulations are recommended for use in patients with vasoreactive pulmonary arterial hypertension. All forms are FDA approved for treatment of angina pectoris and hypertension and used off-label for atrial fibrillation/flutter, non-sustained ventricular tachycardia, premature ventricular beats, and supraventricular tachycardia. If there's a preference for a certain formulation, it's good practice for the prescriber to write the brand name on the prescription and note that generic substitution is permissible.
Who knows why there are so many different diltiazem ER capsules?? Hopefully this helps to clear up some of the inevitable confusion!
Written By:
Joseph Solien, PharmD, BCPP, BCGP
Vice President of Clinical Services, OnePoint Patient Care
Joe Solien is the Vice President of Clinical Services at OnePoint Patient Care. He's responsible for OnePoint's national clinical services programs, including staff and partner education, formulary design and development, and medication utilization reviews. He began working for OnePoint as a pharmacy student intern in 2004 and became a staff pharmacist after graduation. In 2010, he was promoted to Clinical Pharmacist and has continued to serve on the clinical team in a number of roles since then. Joe earned a PharmD from Midwestern University – Glendale and is board certified in both psychiatric and geriatric pharmacy. He earned a BS in biochemistry and molecular biology and a BA in chemistry from the University of Minnesota – Duluth. 
&
Melissa Corak, PharmD, BCGP
Senior Clinical Pharmacist, OnePoint Patient Care
Melissa Corak is the Senior Clinical Pharmacist at OnePoint Patient Care, primarily supporting the needs of pharmacy staff and hospice partners in OnePoint's Western Division. She has worked closely with the clinical team since joining OnePoint as a staff pharmacist in 2012 and transitioned to working with the team full-time in 2018. Melissa earned her PharmD from Midwestern University – Glendale and is board certified in geriatric pharmacy.